To allow for appropriate physical distancing and because it is an outdoor venue, all ceremonies will take place at Hard Rock Stadium. The University of Miami is committed to providing you with a safe environment to carry on the great tradition and pomp and circumstance of graduation at Hard Rock Stadium. We look forward to seeing you at the stadium at the December Commencement ceremonies!
Doctoral graduates will not be hooded during the ceremony. Graduates should arrive dressed in their regalia (including hoods for master's or doctoral graduates) at least an hour before their ceremony to ensure the graduate check-in process goes smoothly. Once checked in, graduates will be directed to their seats for the ceremony. All graduates will cross the stage and receive their diploma cover (each graduate will grab their own cover before crossing the stage); however, the academic procession of alumni, faculty marshals, and students will not take place. No handshaking or hugs only physically distanced photos with the President and Deans. The stage party will be limited to only those with speaking roles in the ceremony.
Graduate and Guest Tickets & Guidelines
Touchless entry: Graduates and guests can leave phones, keys and wallets in their pockets as they proceed through a touchless security scan at all gates.
Tickets are limited to one for each graduate and up to four guests per graduate, reducing the amount of people at each ceremony. All tickets are mobile tickets and will be delivered to each student via their UM email. Mobile tickets will be used for touchless entry into the stadium for all graduates and guests. Graduates are responsible for forwarding tickets to their guests.
Graduate Seating - All graduates will be physically distanced and seated on the 100 level of the stadium (chairs will be marked to enforce social distancing). Graduates are seated with their classmates according to school or college and degree level. Graduates are not seated alphabetically. All graduates will be displayed on the video screens as they cross the stage.
Guest Seating - All guests will have reserved seating. Seat locations will be displayed when the tickets are delivered via email. Guest tickets are grouped in pods and each pod will be physically distanced from other pods.
Ceremonies have been divided into four separate ceremonies to limit the amount of graduates and guests gathering at one time.
COVID-19 Policies & Guidelines
All graduates and guests are being asked to review the mandated venue policies, including COVID policies.
Stadium Experience & Staff: You will notice additional hand sanitizing stations on the concourse, touchless restroom experience, capacity restrictions in certain areas and minimum congregation on the concourse. Stadium employees to go through touch-less temperature checks and will wear masks at all times.
Food & Beverage: Cash will no longer be accepted at Hard Rock Stadium. Graduates and guests are encouraged to download the Hard Rock Stadium app to order food and beverage. Express pick-up locations will be featured throughout all concourses in addition to traditional concession stands. There will be no alcohol at Hard Rock Stadium during Commencement.
Staff
UM staff are required to display and complete the Daily Symptom checker upon check-in at Hard Rock Stadium.
All of our staff is still required to participate in mandatory random testing if selected.  Staff are required to wear a mask and appropriate protective gear (depending on their role) at all times. 
All COVID-19 commencement policies are outlined on the website below. This includes Hard Rock Stadium policies, face mask, and physical distancing policies.
Travel Information
As December approaches, we recognize that many of you will be traveling to attend Commencement with your families or loved ones. This year, however, it is vital that you take extra safety precautions. Your COVID-19 test status should inform your decision on how to travel and what to do when you get to your destination.
This chart provides clear direction to help you make responsible choices so that you limit the risks of bringing the virus with you on your travels.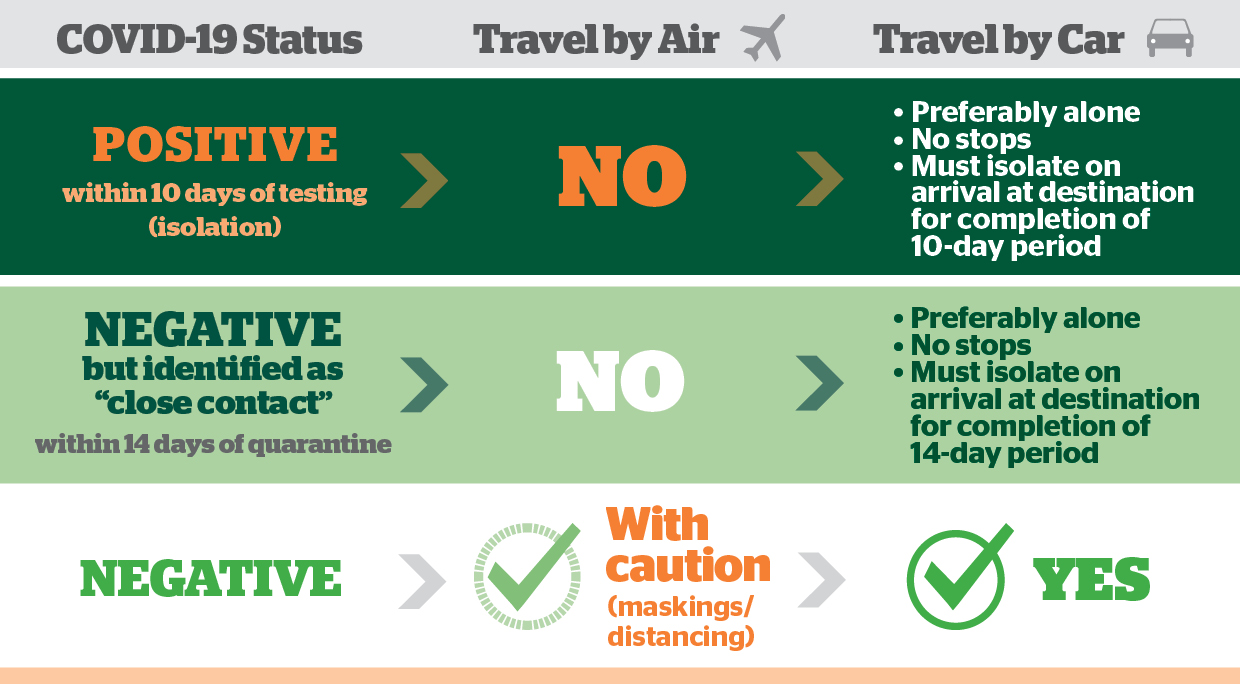 Here are some additional tips to keep in mind:
Make a travel plan and familiarize yourself with the local guidelines for your destination.
Pack sufficient hand sanitizer and face coverings. Also pack some food and water in the event dining options along your route are closed.
Practice physical distancing at all times.
Upon arrival to your destination you may need to quarantine based on local regulations after traveling either by air or car. Please check the regulations at your destination before arrival.

Please contact us if you need help navigating your individual situation.
COVID-19 Testing Site Finder
There are many COVID-19 testing locations throughout Florida. Below you will find some locations that offer patients multiple testing sites for COVID 19 throughout Miami Dade & Broward County. Some locations offer free testing to those eligible patients who meet CDC criteria. For tests administered at certain locations, the patient's insurance will be billed for reimbursement. Patients should check with their insurance company to determine any limitations on qualification and frequency of testing.  
*Disclaimers:
The University of Miami cannot attest to the accuracy of the website.
Linking to these website does not constitute an endorsement by the University of Miami or the information and products presented on the website.
You will be subject to the destination website's privacy policy when you follow the link.