The deadline to apply for graduation and order your cap and gown is early October for the Fall ceremony and early March for the Spring ceremony. Contact your academic advisor if you missed the application deadline. Regalia distribution for all graduates (except for Executive M.B.A., UOnline, Miller School of Medicine M.D., and School of Law students) will be at the Toppel Career Center on the Coral Gables campus.
Tuesday, December 8, 2020 and Wednesday, December 9, 2020
8:30 a.m. to 7 p.m.
Toppel Career Center
5225 Ponce De Leon Blvd
Coral Gables, FL 33146
(305) 284-5451
*Please note Law, Med, UOnline, and EMBA programs have separate distribution days. Please contact your program directly for details.
*Please bring your Cane ID to distribution*
If you cannot pick up your cap and gown during the dates and times listed above, you may send a delegate with written permission including your name, C# and degree information to pick up on your behalf.
For more information on cap and gown distribution contact us:
list of contact for cap and gown inquiries
General Cap and Gown Inquiries
Office of Commencement
(305) 284-1824
General Cap and Gown Distribution
Toppel Career Center
(305) 284-5451
Executive M.B.A.
Business School Executive Education
(305) 284-1354
UOnline Master's Degrees
UOnline
(305) 521-2777
Miller School of Medicine M.D.
Miller School of Medicine
Medical Student Education
(305) 243-4748
School of Law J.D. and LL.M.
School of Law
Office of the Dean of Students
(305) 284-4551
Assembly for Commencement
Graduating students should arrive in their regalia at the Fieldhouse adjacent to the Watsco Center one hour prior to their ceremony start time for4 check-in. Follow the signs to the Graduate Lineup Site. Do not bring any large bags or backpacks. There is no place to store personal belongings and all personal items must be carried on stage for the diploma presentation. The Academic Procession of candidates will enter the Watsco Center commencement site 15 minutes prior to the start time of your ceremony. Graduates must lineup on time. Late graduates may not be allowed to walk.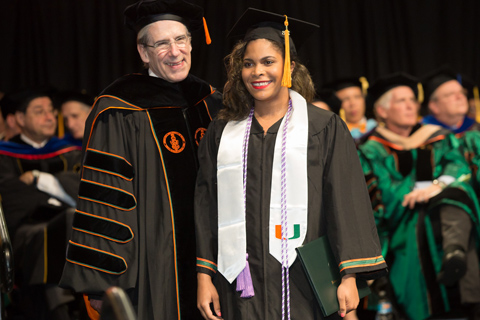 Purchase the Stole for $25 at Cap and Gown Distribution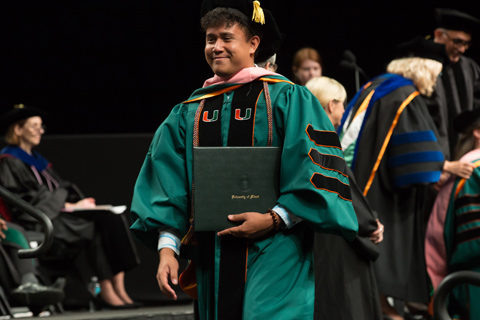 Doctorate students may purchase custom UM academic apparel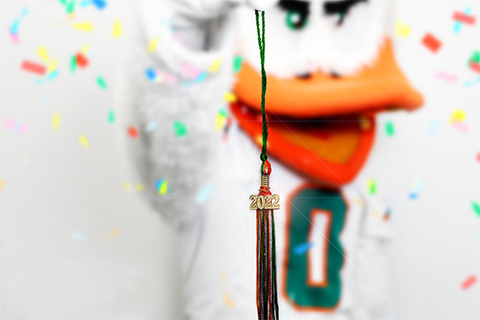 Make your donation to the Class Gift to receive the keepsake orange and green tassel