Cap and Gown Details
The deadline to order cap and gown was March 16, 2021. If you plan on attending the in-person ceremony you can pick up your cap and gown on the day of the ceremony. We will have a limited supply of extras available at the graduate check-in area at Hard Rock Stadium. Be sure to arrive 1 hour before the ceremony start time.
If you have questions regarding the status or your cap and gown order, incorrect items received, etc. please contact Herff Jones at 305-271-6769. Incorrect items, gown sizes, etc. can be corrected at Hard Rock Stadium on ceremony days.
How to Wear Your Cap and Gown
Once you've received your cap and gown, you may be wondering how to properly wear it. Cap and gown is specific to the degree you are receiving. Click the links below and Sebstian the Ibis will show you how to wewar your cap, gown, and hood.
For more information on cap and gown contact us:
General Cap and Gown Inquiries
Office of Commencement
(305) 284-1824
Executive M.B.A.
Business School Executive Education
(305) 284-1354
UOnline Master's Degrees
UOnline
(305) 521-2777
Miller School of Medicine M.D.
Miller School of Medicine
Medical Student Education
(305) 243-4748
School of Law J.D. and LL.M.
School of Law
Office of the Dean of Students
(305) 284-4551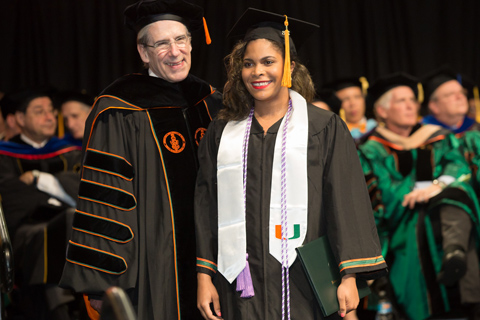 Purchase the Stole for $25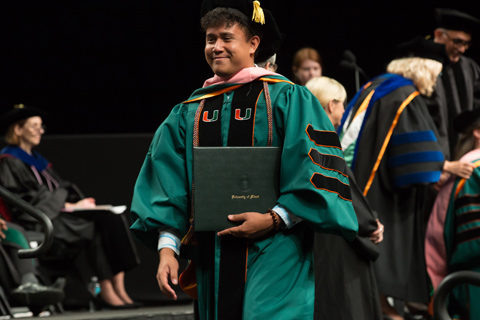 Doctorate students may purchase custom UM academic apparel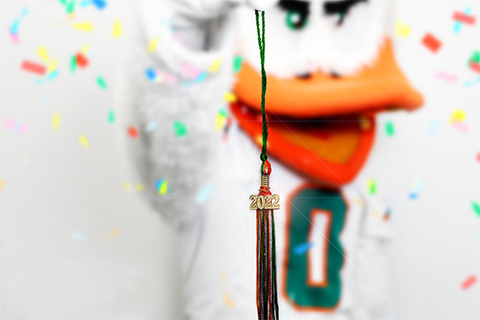 Make your donation to the General Scholarship Fund to receive the keepsake orange and green tassel